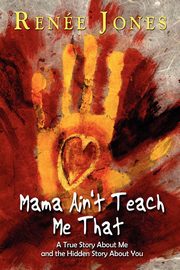 Mama Ain't Teach Me That
Wersja papierowa
Wydawnictwo: Faith Books and More
ISBN:

978-09-8465-074-3


Format:

15.2x22.9cm


Liczba stron:

102


Oprawa:

Miękka


Wydanie:

2011 r.


Język: angielski

Dostępność:

dostępny




MAMA AIN'T TEACH ME THAT
A true story about a little girl looking for love in all the wrong places...


The age-old question adults ask children is, "What do you want to be when you grow up?" Like most children, Renée gazed upward and rattled off the top four: doctor, lawyer, teacher, and astronaut. However, years later when her reality collided with her dreams, she awakened to a life far away from the bright future she had envisioned for herself as a child.

Even though Renée grew up with two parents and house full of brothers and sisters, she never felt loved. In her childhood home, she never heard the word "love." She remembers her parents having rent parties with all of their friends; everyone drinking, dancing and playing cards. One of her dad's friends paid her fifty cents to sit in his lap, when one of her friends only received ten cents; the gift of money made Renée feel good. She looked for those fifty cents every weekend. In her mind, if a man gave her money, he loved her and she carried that line of thinking with her for years.

At the age of seventeen, her first sexual encounter led to a pregnancy. Her mother told her she had to marry the father of her child. She refused, but her mother forced Renée against her will. She had a big wedding on the grandest level. One week later the beatings started and continued for three years. Renée's mother told her to stand by her husband's side regardless of his treatment. One night Renée was beaten so badly that she awoke hours later with broken bones and many other injuries. Leaving her two children behind, she stumbled in shock to a police station.

Renée continued to search for love in all the wrong places. In a club one night she was befriended by a pimp who told her just what she needed to hear - that he loved her. She went from Ohio to New York living fast and hard on the streets. Renée went from selling drugs to abusing them. Drug abuse led to homelessness and joblessness. Renée is still dealing with the shock, fear and violation of being raped while living on the streets. All she ever wanted to know was love, and Mama Ain't Teach Her That. Renée was abused in so many ways throughout her life only to find out that God has always loved her.